Welcome to Aqua Digital's official blog.

We hope you find the information here of great use and look forward to you following us as we highlight more and more great products
The ProfiLux tutorial and Review
---
Well now the "Aqua Digital Tank Build" is nearing set up completion its now time to move onto the profiLux and show everyone what really can be done.
I thought I would do this step by step guide including software screen shots.
So lets start with
Temperature.
As you can see here all probes including the Temp probe are situated in the sump at a level that the probes will never be completely submersed.
(The white tipped probe is the new generic pH probe that will be coming with all beginner packs as of April, just field testing it)
So here is a screen shot of the temperature software screen. Here you can see my nominal value is 28 degrees and the hys is set to .02 meaning the tank will only fluctuate by .02, my graphing clearly shows this as an even saw tooth over a 24 hours period. Any more switching than this in a small tank that does not hold heat well could cause thermostat bounce, something to be aware of more so with chillers.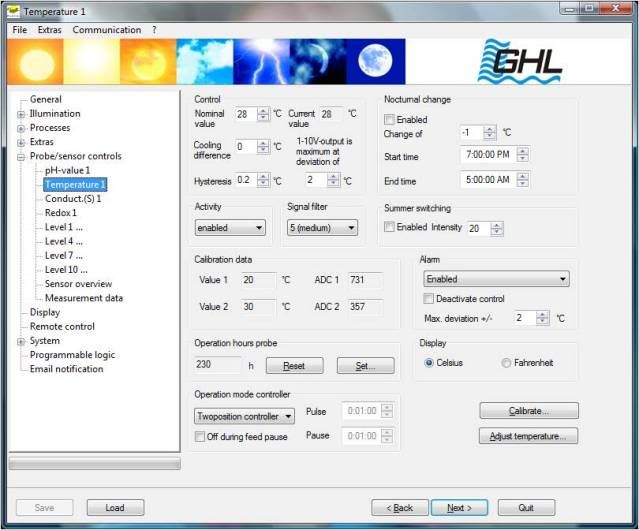 So thats the input but what about turning the heater on and off at the set value?
Next step is to program the power bar to control the heater, but first set the thermostat of your heater to 1-2 degrees above your nominal value, this is so the GHL had control over the heater but still allowing for failure redundancy, no matter how good your controller is, it could be made by Nasa for all I care, make sure you have redundancy or 3rd party cut out for such devices.
Ok onto the power bar. here you can see the power bar input screen and I have chosen socket 1 to be the temperature "heating" control socket. The socket is edited to be Temperature 1 - Heater. If you want to also control a chiller just select another socket i.e socket 2 and program that to Temperature 1 - Chiller. The ProfiLux will then turn either device on or off depending on your nominal value and Hys' set.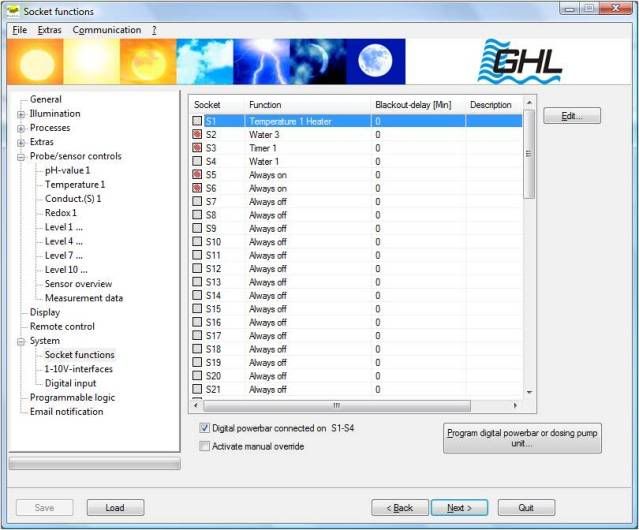 More about the other sockets later.
So thats the temperature set up. - Next pH
Views
8224
Comments
8

Comments