Hey all. I've been trolling these (and a host of other forums) for a few months now and just this past weekend I decided to get serious about finally getting a reef tank started. I have to admit that I posted this on my local aquarium forum a few days ago and just got my account here evened out. So sorry if I missed the present-tense on some of the descriptions.
So my story begins on a cold and bitter Friday when I crawled up into the attic in search of my ancient 10G aquarium that's been sitting there for years. Fishing it out of it's corner I found that it got cracked when some skis were tossed up and that there would be no way for the aquarium to hold water. I drove to a host of pet stores in the area looking for a good deal on just a tank but, in the end, picked up a 15G in great condition from a guy on Craigslist. A stand came with it for the good price of $25 and I was ready to start picking up my supplies.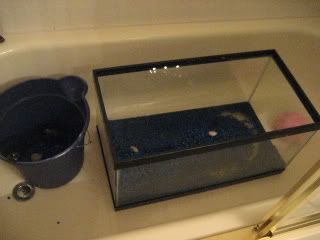 I took the aquarium into the backyard after pulling all the gravel out and doing a quick rinse before filling it with water (to make sure it wasn't going to break on me) and going off to get my filter, a powerhead, etc.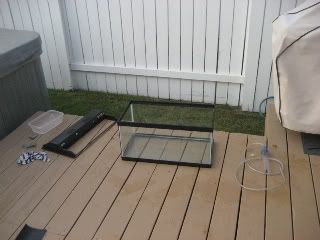 The Equipment I picked up was an Aquaclear 30 Filter (which I'll throw some chaeto in to make it a mini refugium), an Aquaclear 20 powerhead (which I returned for a 480 GPH Koralia powerhead which I really like), 100W heater, thermometer, an $8 specific gravity meter which is pretty inaccurate (though it's telling me I'm between 1.022 and 1.026), some Caribbsea Aragonite live sand, and Instant Ocean Salt.
I filled my tank with Polaris RO water from ExtraFoods and started mixing the salt. The powerhead is rated at moving 180GPH but I didn't think it was moving the water very well, I was doing a lot of the mixing with a big wooden spoon. (The picture is with the original powerhead I bought. Amazingly, it was $18 more than the one I upgraded to...)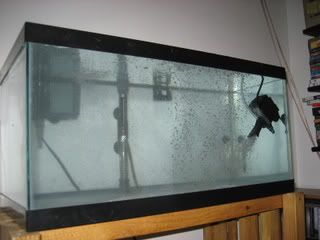 After two days and my SG meter is still giving me different readings (sometimes low, sometimes high, and twice about 1.022). So I think I might look and see what else I can find for other readers as I want my SG evened out so I can add some live rock on Tuesday. My temperature is hovering around 80F right now, which I think will be about right for when my tank begins to cycle.
Last night I picked up a light and ballast from Chris, a Saskreef member, and immediately set out to modify my canopy to make it fit. Sorry I didn't take any pictures of my drilling and modifying the side of the canopy, but restassured I just drilled a 1/2" hole in the side. nothing too amazing.
Here's a picture with the new light: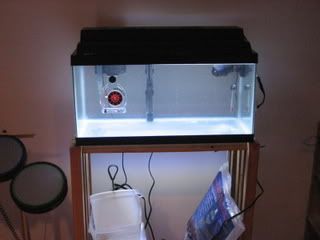 I left the light on overnight and had to adjust the heater in the morning as the heater jumped to 82F.
I turned it down to even out the temperature and, when I hit 79F it held for 24 hours with the lights on (not that they put out that much heat). I went to Bayside today after classes and picked up 12lbs of Live Rock from Colby and Gustavo and took it home to try my hand at aquascaping.
I'm pretty happy with the finished product but it seems like it's missing something. Not sure what. Maybe it needs to be higher in the middle... I'm not too sure. I still like it though. First one is a pic with the flash and the second without a flash.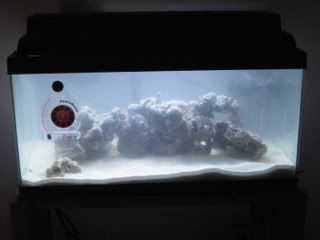 In case anyone was wondering, the hydrometer was returned as I am awaiting arrival of a proper refractometer. Being a nano, I thought that SG wasn't something I was going to leave up to a needle swinging 1.022 and 1.027 depending on the flow of the water.
I'm having some issues finding a test kit for my water as out LFS in my town are virtually non-existent of testing equipment. So I'll update as the tank cycles.
Now that I have lights, some little plants are springing up too, more than sure that at least one is going to need to be 'offed'.
As I'm sure you know, I'd appreciate any comments or suggestions.
As for long term plans, it's going to be a nano reef. Primarily softies I think (at least to start - as you all should know...) and a few fish (I've got three kinds picked out - now I just need to wait!).